A mi revolución la mata la pereza
Muerta antes de nacer siquiera.
A mi futuro le corta las alas la distracción.
Alzando muros con ladrillos de tiempo perdido.
Tan sólo la idea de ser posible activa el miedo que me torna imposible.
Acepto con resignación que nada es perfecto.
Y asumo, así, que si acepto es porque intuyo la perfección.
Decido que no me rebelo,
y así empieza mi rebelión.
La dictadura que hay orquestada en mi cabeza me exige rendimientos que me niego a cumplir.
En mi desobediencia me autodestruyo.
Me robo la posibilidad de ser.
Lucho contra los pudiera
y siendo a medias yo misma
ni me lleno, ni me disgusto, ni construyo ni destruyo.
Me impido.
Y con eso olvido quien pudiera ser.
Regocijándome en luchar conmigo
Soy la oposición de lo que odio no tener
E impávida me describo
como mi peor enemigo,
sin dejar de rebelarme una y otra vez,
que si me doy el permiso, que si me centro y camino
me da pavor perder.
Otra vez el miedo me impide ver.
Y vuelvo a rebelarme contra mi rebelión
Toma la pereza el bastión
Mi esbozo parece ser yo
me acomodo y sigo muerta andando.
Aunque de fondo,
tenues, pero insistentes
sigo oyendo los latidos de mi revolución.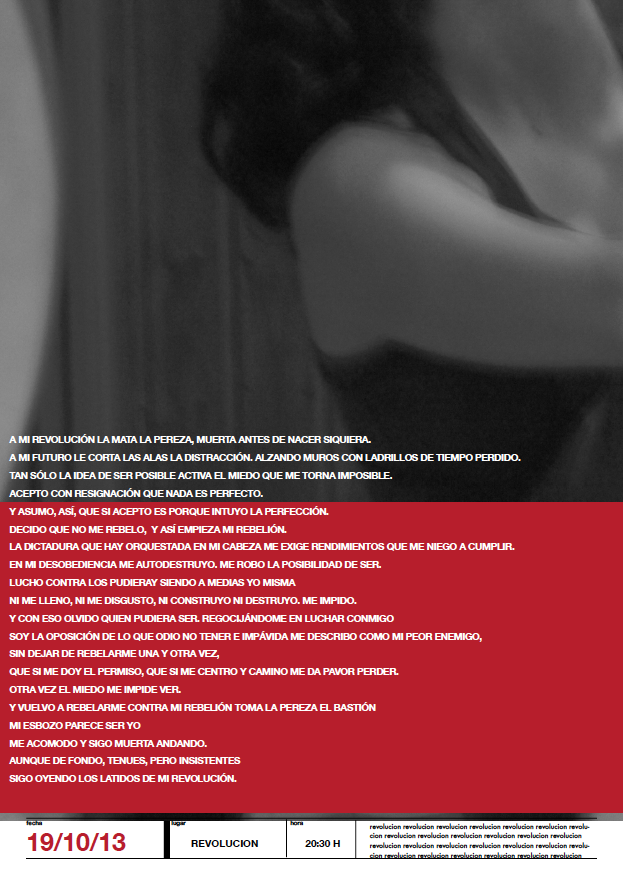 116 comentarios
Comments RSS TrackBack Identifier URI
Deja un comentario
You must be logged in to post a comment.